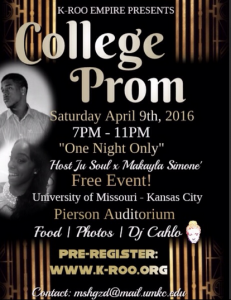 It's true! K-Roo Empire presents College Prom "One Night Only"
Did you have a terrible high school expierence? Do you want to be able to enjoy your night with friends or a date to dress up and have a good time?
Join us Saturday, April 9th, 2016!
Food will be provided for all guests starting at 7PM with Cahlo DJ playing your favorite music all night.
Tickets are FREE and so is the food so why not come out!?
Get your tickets today for the most entertaining event of the year! Register at www.k-roo.org and click under the "Events" tab!
One outside guest per UMKC student!
K-Roo Empire can't wait to present to you College Prom: "One Night Only"
For more information contact mshgzd@mail.umkc.edu!
CLICK THE FLYER TO RSVP!!!